Main Content Starts Here
Shaunnay P.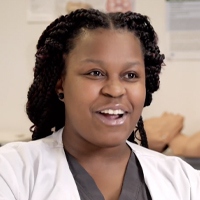 Shaunnay P.
Medical Assisting
After High School I went to cosmetology school and then I told myself "after a few years I want to get into the medical field" because originally I wanted to be a pediatrician but I wasn't ready for the schooling after high school and I also want to do hair too so I didn't want to correspond, like, I didn't know how to do both at the time.
I came in for a consultation I was able to get all the information needed about the program, how long the program was, the staff was very helpful throughout my 9 months of the program.
I actually love the clinical setting and the hands-on setting of learning how to, you know, clean instruments and draw blood and give vitals and how to greet a patient or how to take care of a patient in the healthcare setting.
I'm actually currently working at Pinnacle EMT, it's an ear, nose and throat specialty and also they do facial plastics. I assist the doctors with their procedures. 
If someone wants to come to All-State I will tell them to come. I would actually tell them it was a good experience for me. To never give up, like even if it gets hard, even if the homework gets hard, even if the studying is hard, even if the tests are hard - ask for help. Don't be afraid to ask for tutoring. Enjoy your experience. Don't make it an "oh. I'm just going to school because I need a job" or "I'm just here for the money." Just do it because you want to do it for you and you want to help those in the healthcare setting and not for just a paycheck.
Additional Testimonials in Medical / Healthcare