Main Content Starts Here
Elizabeth D.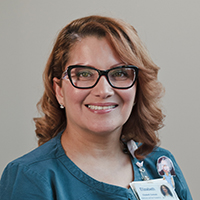 Elizabeth D.
Medical Assisting
I am a medical assistant and also a clinical coordinator. I enjoy working with people.
My experience and education here at All State, yes, made a change in my life. It made an impact. I was able to meet wonderful people here and I was able to learn to keep moving forward and to not stop following what I wanted to accomplish.
My family were totally excited that I finally decided to go into the clinical field. They were very proud of what I have accomplished and not only that doing it together with my daughter was inspirational for her as well and for myself.
Additional Testimonials in Medical / Healthcare