Main Content Starts Here
Sarah S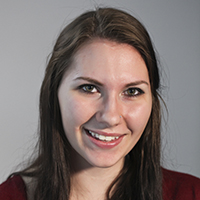 Sarah S.
Medical Assisting
Right now I am currently working in the field as a registered medical assistant. I work at Urgent Care Center and what I enjoy most is when I have that connection with patients where I constantly see them come back and I watch their progress from beginning to end and I can really see that we are making a difference with the patients.
Before I started school I was living with my parents and had no car and I was working three jobs. I now have my own car, I moved into my first place in December and I am able to support myself on my own.
The best advice that someone ever gave to me was it doesn't matter how long it takes you. What matters is that you did it and that you completed it and that you have something to show for it. Now I am going back to get my PA degree.
Additional Testimonials in Medical / Healthcare