Main Content Starts Here
Noreily V.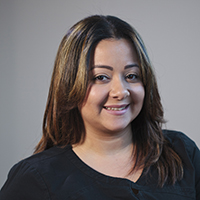 Noreily V.
Medical Assisting
I wanted to become a medical assistant because I've a passion for medical field where I can help people and attend to their needs when they are sick, physicals and all those types of things and I originally wanted to be a nurse, but I wanted to start off with little steps and that was becoming a medical assistant.
The classes were small but I did make friends and until this day, I graduated about four years ago, and we're still friends.
I'm working on what I love the most and because of this I actually decided to go ahead for nursing school and just doing what I do for pediatrics has helped me and to better myself and to know how to deal with my daughter and learn her health and health of other children as well.
Additional Testimonials in Medical / Healthcare