Main Content Starts Here
Artaezeyah F.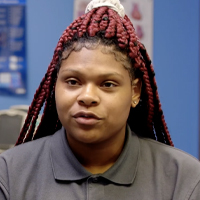 Artaezeyah F.
I wanted to become a nurse so I went to Pace University for a semester and at the end of the semester my dad was unable to continue paying for the next three and a half years of schooling. So he told me that I could either get a job and help him pay it or I could take out loans and I already have loans out so I just decided to drop out for the time being to make money and as I was making money I decided that, you know, this wasn't what I wanted to do, is not what I wanted to do every day, I hated going to work,  I still do and I said that I wanted to do something that was in this like in the medical field that would help me get my foot in the door and get experience. 
So me and my sister, who's actually attending a class with me, we went online we found EMT programs that was in our financial like that we were going to be able to pay that was nearby and was starting as soon as possible. We found All-State and her mom actually went here for the medical assistant program and my brother went here for the truck driving program. So we found All-State, we called them up, we came in, took the tour, did the interview, did the test and everything, we passed background checks, everything. So we started here and like EMT is a really good way to get into the field.
So we have a financial advisor that we talked to in the beginning and they help us set up our FASFA, our loans, and everything and they give you a rundown of what you would pay out of pocket and if you didn't take out loans what you end up paying, in like, in full. They work with you and then you know you can go and talk to them about it and say, you know, "I can't make this payment, but I can make it then" and then, you know, they'll work around what you can pay.
I would say just go for it. It that's what you want to do, go for it. They're really supportive and they help you find the program that's good for you financially, what your interests are and they help you get jobs and real-world experience because we have an externship here so, I mean, even if you guys get in the program and you go on your externship and find out that's not what you want to do there is other programs here for you to, you know, to explore.