Main Content Starts Here
Darryl D.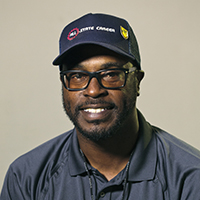 Darryl D.
Advanced Tractor Trailer Driving
Actually, I wanted to drive a truck since I was a little boy. I fulfilled a childhood fantasy coming to All State and driving the big rigs.
I was a work-study student so I worked in the morning in the computer lab to help pay my tuition and I did that from about 7:00 a.m. to 1:00 and my class started at 1:30 and I was out of here about 6:30.
The range is where you actually get the hands on training when you actually start learning things like how to do a proper pre-trip inspection, straight line backing, we actually learned how to parallel park a tractor and trailer on the site side, the driver's side as well as the passenger's side.
I've seen more of the country then I've ever seen in my life, stuff that I've only seen in magazines and movies. I got a chance to see those things up close and it was awesome.
Additional Testimonials in Commercial Driving