Main Content Starts Here
Advanced Tractor Trailer Driving
Advanced Tractor Trailer Driving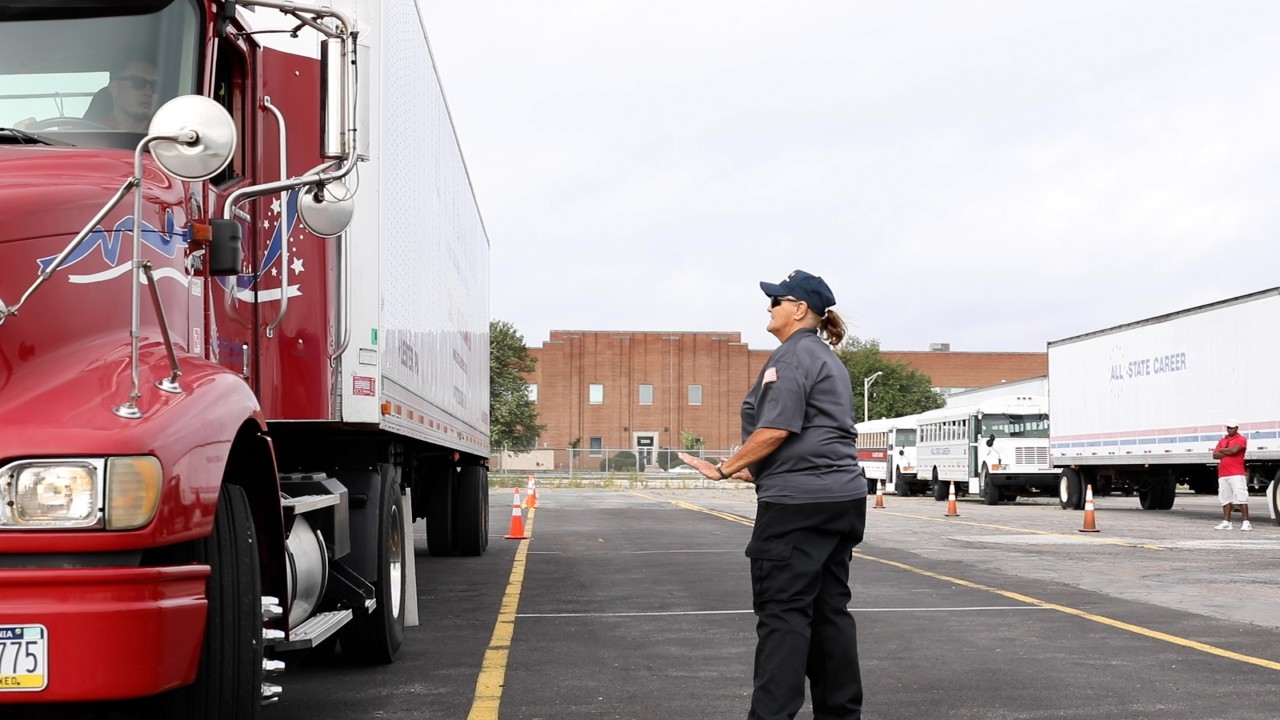 The Advanced Tractor Trailer Driving program teaches students everything needed to successfully maneuver a tractor trailer or other commercial vehicle, as defined by Federal Motor Carrier Safety Regulations..

Earn Your Commercial Driving License
Start training for your new career in the trucking industry by enrolling in the All-State Career Advanced Tractor Trailer Driving program. Commercial truck drivers enjoy a sense of liberty that 9-to-5 office jobs simply cannot deliver.
Essential to our modern economy and known in the profession as Over-the-Road (OTR) driving, operating a big rig for long haul driving can offer drivers a rewarding pay scale. Skilled CDL drivers are always in demand. In the commercial driving industry, some trucking firms offer finance programs so drivers can own their own rigs.
If you are the type of person who prefers a scenic view vs the view from a cubicle, then enrolling in the Advanced Tractor Trailer Driving program at All-State in order to earn your Class A CDL license can be your first step to a career on the open road.
All-State Career Training Gives You Options
Once you earn your CDL license as a graduate of All-State Career, you will be certified to operate 80,000-pound semis, articulated vehicles with trailers, and straight vehicles. The Bureau of Labor Statistics projects that job prospects for drivers with proper training will be very good over the next ten years and you can prepare to enter this job market after successfully completing the All-State Career's program.
We Do More Than Teach You to Drive
Our experienced instructors make it their job to teach you the critical skills you must master in order to be a safe driver, but it takes more than just driving expertise to enter the industry. Our career services staff will help you
understand and develop other key abilities necessary to be successful in landing an entry-level job as a commercial driver. Our dedicated staff will help you gain the know-how you need. All-State Career's placement services include:
How to communicate professionally; how to fill out job applications that stand out; how to deliver excellent customer service; and how to obtain phone interviews for Over the Road (OTR) positions.
All-State Career's experienced mentors will share tips and techniques that can help you get interviews as newcomers to the industry.
All-State Career Services staff supports graduating students with employment assistance services often even bringing prospective employers to campus.
For more information on CDL training and advanced truck driving in Baltimore, contact us.

Frequently asked questions
Programs vary by state and campus. Not all programs are offered at all locations. Contact local campus for accreditation information.